How Does Vitamin Therapy Work?
By directly infusing your body with much needed nutrients, your body can perform at peak levels. This is achieved with just a simple vitamin shot or a vitamin drip at our spa. Those who are short on time prefer shots, however, if you are feeling really depleted, we recommend a vitamin drip. Contact us for more information on the benefits of these different vitamin infusions we offer.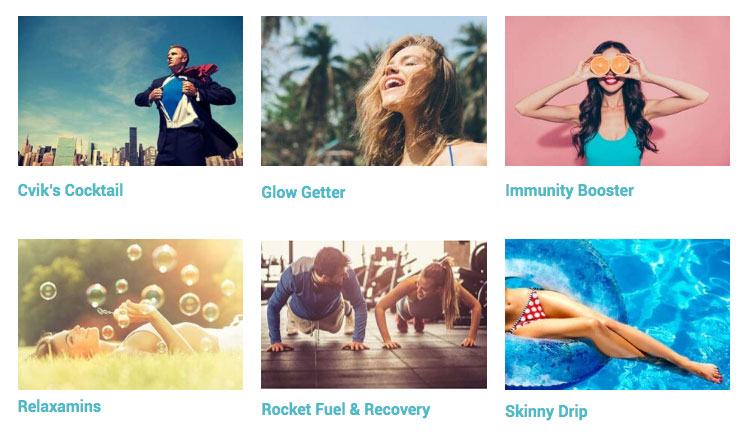 Cvik's Cocktail – The superman of IV Drips. We formulated this little concoction to help keep your body fueled and functioning properly with all of the right vitamins it craves. Supports mind and body health. #BeUnstoppable

Glow Getter – Our signature blend of antioxidants to promote clear skin, shiny hair, and healthy nails. It's 2020, time to GLOW UP! 

Immunity Boost – Feeling under the weather? This vitamin c packed drip will get you back to feeling 100% in no time! We also highly recommend as a preventative treatment during cold and flu season! #StayHealthy

Relaxamins – A calming blend that helps inhibit stress while improving mental clarity and focus. We highly recommend around the holidays or right before a big interview or test! 

Rocket Fuel – If you've been putting time in at the gym, add this drip to your regimen for optimal results. Our own custom blend of amino acids was formulated to promote healthy muscle synthesis, enhanced energy, improved endurance, and speed up your recovery time! 

Skinny Drip – Whether you've got 5lbs or 100lbs left to shed, think of the Skinny Drip as your biggest cheerleader and coach – pushing your weight loss results to the max! Our own blend of skinny boosters help to inhibit hunger, provide energy, and promote results that you'll be excited about! 

IV Therapy takes approximately 30 minutes. We'll turn off the lights, put your choice of music on and let you relax. Oddly enough, a HydraFacial also takes 30 minutes and can be done at the same time! 
Bundle them together for a great deal!